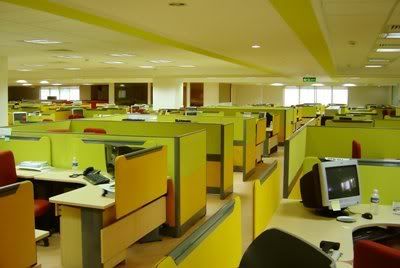 Image of cubicles © Arjun Kartha.
Office cubicles just work for many companies. They're compact, efficient working spaces. They rationalize the use of office space. Finally, office cubicles offer an egalitarian solution that many highly-stratified companies turn to when communication breaks down between layers in the corporate hierarchy.
But has the time come to reconsider cubicles?
Consider this: layoffs are decimating the workforce – gaps in the cubicle village are starting to show. The space-saving cubicle is becoming obsolete in offices with office space to spare.
At the same time, a growing chunk of the remaining workforce has a different view of cubicle hierarchy: the enclosed walls clash with a millennial generation that values face time.
"Office design is going from an 'I' to 'we' concept," says designer Collin Burry of Gensler, the global architectural and design firm. "Millennials would be miserable sitting in a closed office all day long."
Companies now face the challenge of integrating the differing workspace demands of multiple generations within the same office. Case in point, healthcare concern McKesson and their redesigned office space: