Since the last time we published a list of cubicle accessories (titled "Pimp My Cubicle"), we've come across a bumper crop of more cubicle decorations that you can use to liven up your cube.
Personalize your cubicle with these cubicle accessories, and not only will you come across as a more interesting person, those fabric walls won't feel like they're closing in much.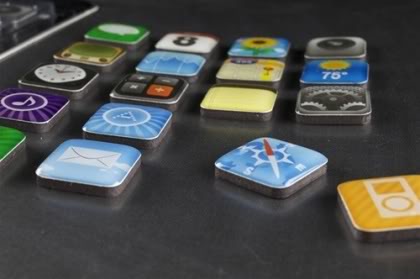 Image courtesy of Jailbreak Toys. All rights reserved.
App Magnets. Can't afford an iPad? Use these magnetic cubicle wall accessories from Jailbreak Toys to transform your magnetic whiteboard into the next best thing. No, you won't be able to use these to surf the web, find your location, look up movie schedules, or improve your sex life… but can a real iPad secure those notes and bills to the wall? We didn't think so.
Each App Magnets cubicle accessories set comes with 18 individual epoxy magnets, each measuring 7/8″ x 7/8″, and retailing for $12.99 (less $486.01 compared to the real thing).
(Continue reading about these indispensable cubicle accessories)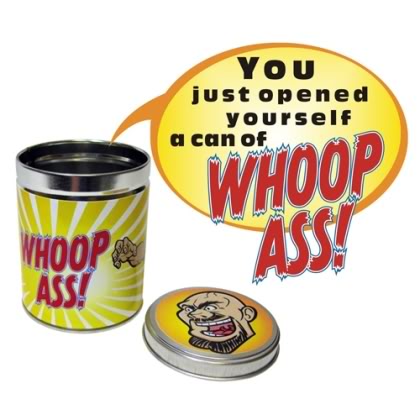 Image courtesy of KlearGear. All rights reserved.
Can of Whoop Ass. Boss on your case? Cubicle neighbor talks too loud on the phone? Pushed to the wall? Then let 'em know – "I am cubicle worker, hear me roar!" Literally open a Can of Whoop Ass, and be the cube warrior you were always meant to be!
Of course, we don't really mean that you go postal on your colleagues – just open this 17-ounce metal can and show them you mean business. Got no Whoop-Ass to put in your can? No worries – in place of Whoop-Ass, this can also provides storage for jellybeans or paperclips, which sadly do nothing for your hallway cred. One Can of Whoop-Ass cubicle accessories retails for $12.45.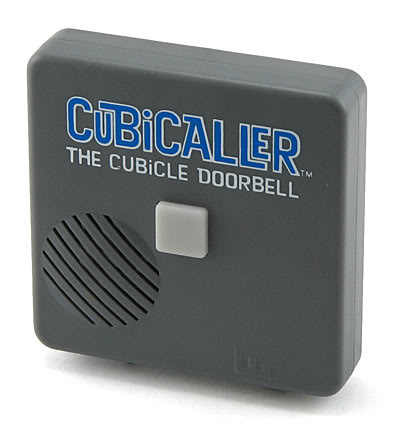 Image courtesy of Convenient Gadgets & Gifts. All rights reserved.
Cubicaller Cubicle Doorbell. Ain't a lot of cubicle accessories out there that increase your privacy levels in the office – cube walls notwithstanding, the open door practically invites people to come in and chat with you. So what kind of barrier can you set up to let people know they oughta buzz before entering?
A Cubicaller, of course. Keep one of these handy cubicle accessories on the wall, and only the really rude and obtuse will barrel in on you without buzzing. The Cubicaller keeps it interesting, by providing 12 different sound effects, including bird chirps, old car horns, "ding-dong" doorbell, a "Sproing!", fading laser, door knocking, fog horn, big band, "quack-Quack", ring tone, cat meowing, and Chimes.
With respect to your cube neighbors, the Cubicaller's volume can be adjusted to three different levels. The Cubicaller retails for $13.95 at Amazon.com.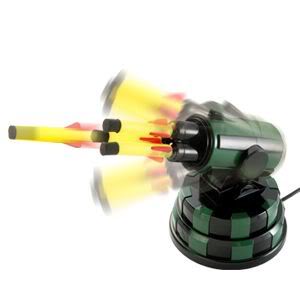 Image © 2007 Dream Cheeky. All rights reserved.
USB Missile Launcher. When it's "Def Con 2" in your office space, make sure you're armed and ready for battle with Dream Cheeky's USB Missile Launcher. These warlike cubicle accessories aren't just for show – each launcher contains three foam missiles, and is connected to your PC by a four-foot cable and a USB 1.1 connection.
The Missile Launcher can be controlled on your PC, firing each foam missile up to 15 feet at a fast clip, accompanied by pre-recorded sound effects. You'll need a PC with Intel Pentium 4 or compatible processor operating at 2.4GHz or faster, 128MB or more RAM, and 100MB of available hard drive space – plus one available USB port.
You've been warned – arm yourself with these cubicle accessories, cubicle war is hell. Of course, you'll need something more substantial when the inevitable office zombie apocalypse rears its ugly head:
1 Comments
Leave a Comment
You must be logged in to post a comment.
---