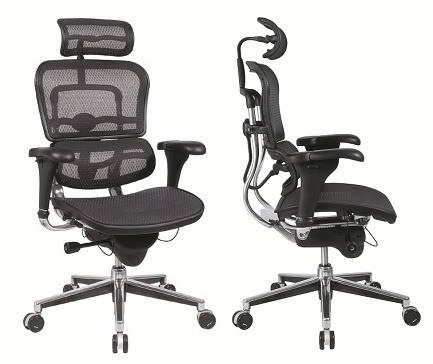 [Image © Ergohuman, all rights reserved.]
Ergonomic office chairs have an undeserved reputation of being expensive. This has prevented many office managers from investing in office chairs that may help prevent the onset of carpal tunnel syndrome and other repetitive strain injuries.
With the introduction of Ergohuman ergonomic office chairs, office managers now have a mid-price contender: a less pricey alternative to expensive ergonomic office chairs that delivers the goods nonetheless.
When compared with our list of criteria for the best ergonomic office chairs, the Ergohuman acquits itself quite nicely. (read more)
Adjustability – Ergohuman office chairs are very adjustable, allowing the user to create the most perfect fit possible. Each Ergohuman may be adjusted in eight different ways.
You get armrests that pivot the arms in and out to provide essential support for your forearms; a headrest that adjusts up and down to cradle your neck when reclining; and adjustable lumbar support that buttress your lower back. In short, you get a level of adjustability from Ergohuman ergonomic office chairs' that's remarkably high given their mid-level price.
Not all Ergohuman office chairs sport a headrest, though – only the ME7ERG Ergohuman Mesh, LE9ERG Ergohuman Leather and custom upholstered CU9ERG Ergohuman Fabric have it, and Ergohuman chairs that don't have a headrest cannot be retrofitted to use one.
Comfort – Ergohuman's basic model sports a mesh bottom and back, while later models feature headrests and leather seats. Ergohuman office chairs come in low or high-back models, with a choice of mesh, leather, or a combination of both. While the basic mesh model accommodates smaller budgets (starting at $600), the leather models have padded, lovingly-stitched quality leather for the user's seat, lumbar area, back, and headrest.
Which is not to pooh-pooh Ergohuman's mesh office chairs – the mesh variant is highly breathable, offering greater cooling power than padded cushion seating. Mesh chairs are also very adaptable to each user's unique body form.
Just a caveat – Ergohuman office chairs are designed for people between 5'2" and 6'2" in height, and less than 250 pounds. The manufacturer cannot guarantee optimal functionality and comfort for users who don't fit these specifications.
Perks – the manufacturer offers a Raynor Fabrix program that allows users to customize Ergohuman office chairs with over 70 different fabrics, with weaves that include Brazil and lattice, and patterns that include leaves, shells, and curves. Despite all that, Raynor promises to still ship in less than 7 business days!
Finally, Ergohuman buyers get a lifetime warranty, with an added 5-year optional warranty on fabrics.
Professional ergonomist and mechanical engineer Jon Paulsen reviewed the Ergohuman himself… and gave it two thumbs up. "For many of my clients, the Ergohuman chair is one of the most comfortable mid-priced chairs on the market and it fits them properly," Paulsen reports –
The Ergohuman chair competes well with high end chairs (compare to Herman Miller Aeron and Steelcase Leap Chair). The manufacturer offers a limited lifetime warranty that covers all but normal fabric wear and tear. A broken chair is never very ergonomic so purchasing a well made chair that has good warranty support is obviously important.
But enough words – here's Paulsen reviewing – and approving – of Ergohuman ergonomic office chairs in living color.
1 Comments
Leave a Comment
You must be logged in to post a comment.
---