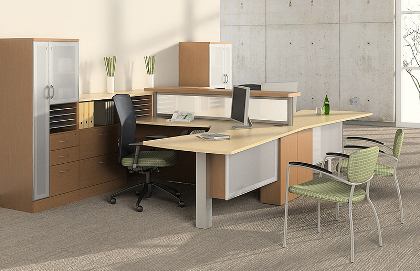 Image © Global Upholstery Co.
No corner office is complete without a modern executive desk taking pride of place. The ideal executive desk does more than keep an executive's papers from falling to the floor: it provides much needed storage and defines an executive's workspace as well.
Once personalized properly, the modern executive desk also defines the personality and outlook of the executive who's using it.
If you're newly arrived to your corner office, and assuming you can choose the kind of desk you'll be spending the rest of your executive career on, how will you go about choosing your new command center?
The right one will come to you, once you ask yourself a few questions:
How flexible do you intend to be? Modern executive desks come in modular versions, which can be set up easily, then reconfigured once your needs change down the road. High quality modular desks are easy to assemble and configure, with European connectors that make disassembly and reconfiguration a breeze.
What kind of electronics will you be using? Likely the answer won't be "none" – you'll need at least one grommet hole to tame those pesky computer and telephone wires. Look for a hutch with a sweep that keeps those wires in place. And look for height/angle adjustable keyboard trays that can help you work while maintaining a comfortable, ergonomically-friendly position.
How many people will you be working with? The best desks allow for collaboration with colleagues, coming with island worksurfaces that allow teammates to "meet at your place" and still have enough leg room below.
A good example of modern executive desk that fits all the above: the Zira line of desks, a modular desk system that can be infinitely rearranged to ensure maximum work efficiency and organization.
Zira offers a multitude of storage components, allowing you to find a way to store everything in your corner office the way you like – putting them away (your boring old files) or putting them up for display (that glowing letter from the Chairman).
This video shows you how easy it is to get that corner office started with Zira – and this link takes you to Cubicles.com's desk page where you can look at Zira and many other modern executive desk options.