Image © SOM / Colin Gorsuch.
The office furniture manufacturer Steelcase just concluded its 10th annual Wreath and Menorah Design Competition last December 3, with architecture firm Skidmore, Owing and Merrill bagging the top prize.
More info on the contest and the winner, after the jump.                 (read more)
(Actually, we're talking about SOM's Chicago office, if you want to split hairs; and to split hairs even more, by categorizing this as "office furniture" we're recognizing that contest sponsor Steelcase is a giant in the office furniture department. I know, I know, that's stretching things a bit.)
SOM's Colin Gorsuch was responsible for the menorah design – as described on the official SOM site,
a cast piece of solid wax that mimics the liquidity of the ancient consecrated oil. As the menorah burns, its 8x8 framework is revealed. The melted wax falls onto the wooden base and paints a pictorial timeline of the Hanukkah celebration.
The SOM menorah is an interesting take on this most traditional icon of the Jewish festival of Hanukkah, which traces its roots to the Maccabean Revolt at the 2nd century BCE. Having successfully rebelled against the Greek King, the Maccabees had the temple in Jerusalem rededicated; the eight days of Hanukkah correspond to the eight days that the wicks of the menorah burned, even as there was only enough sacred olive oil for one day.
The competition entries were auctioned off to benefit the Children's Place Association, which assists poor kids and their families.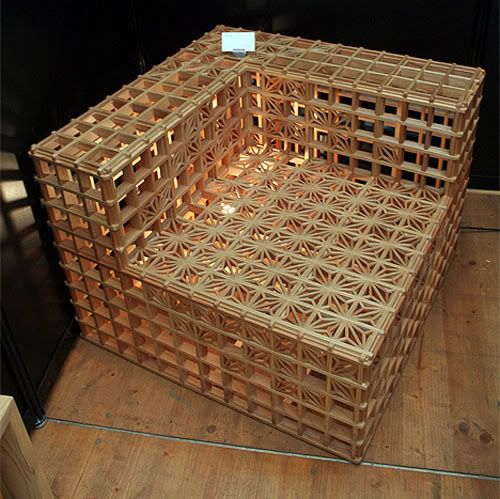 Image © Kinokoto.
If counting a menorah as office furniture is a bit too much for you, try this relaxing "plant chair" if you're in the market for something you can bring into your office to deal with the probably stressful year ahead.
This wooden latticework chair, designed by Japanese firm Kinokoto, is intended to be "a stress-free zone with wells for plants in the seat back".
No comments yet. Be the first to leave a comment !
Leave a Comment
You must be logged in to post a comment.
---