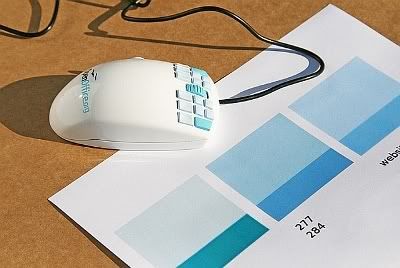 Image © OpenOfficeMouse.
Ergonomics isn't rocket science – comfort is job one, and intuitiveness is always, always going to get you there two-thrids of the way. A seat that supports your lumbar area. Keyboards that cushion your wrist.
So what could the guys at OpenOffice be thinking with this un-ergonomic eighteen-button monster?  (read more)

This hedgehog-like monstrosity, named the OpenOfficeMouse, has eighteen programmable buttons, ALL of which can be double-clicked, together with a scroll wheel. The scroll wheel, when it first came about on computer mice, was a stroke of genius. The eighteen buttons on this abomination, not so much.
In the light of the recent launch of Apple's Magic Mouse, this nightmare of a mouse compares rather poorly. Zoli Erdos notes of the two, "you have great design, ergonomics and functionality all on one side, and ugly bulkiness and utter uselessness on the other."
This isn't fazing OpenOfficeMouse's makers, though. Mouse designer Theodore Beale was quoted as saying, "you can do far more with this mouse than most people are likely to realize at first".
(We can't resist noting that Cubicles.com's ergonomic chairs do a much better job at providing comfort and functionality, with zero buttons. But that's just us.)
No launch date has been announced for OpenOfficeMouse, but we do know that the price is set at $74.99. Good luck with that.
No comments yet. Be the first to leave a comment !
Leave a Comment
You must be logged in to post a comment.
---