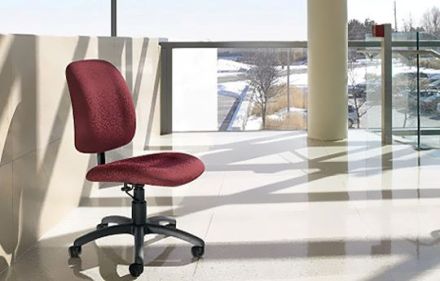 Armless office chairs are usually the last choice for many office workers. No surprise there – why give up the comfort and great optics of an office chair with arms?
Still, armless office chairs have a role to play in the office. A supporting role, true, but an important one nonetheless.
Armless office chairs are ideal for offices with little space to spare and only a tiny budget to work with. Sometimes the two go together; tenants of small office spaces generally don't have much overhead to splurge on the latest Herman Miller office chairs for the whole crew. So armless office chairs can, and do, fill the slack.
Because of the lack of arms, armless office chairs can be slid under the desk with little trouble. And the lack of arms doesn't get in the way of most armless office chairs' appearance: they come in a wide variety of designs and colors, one of which is bound to suit your office needs.
Even with armless office chairs, you still need to do your due diligence with regard to comfort and adjustability. Your armless office chair should be adjustable, and work well with your body frame.
If you're in the market for armless office chairs, you should test more than one before settling on your final choice. (In our opinion, Cubicles.com's seating department is a great place to begin choosing.)
This is crucial – there's a high correlation between comfort and productivity, and you don't want your armless office chair to get in the way of working effectively!
2 Comments
Leave a Comment
You must be logged in to post a comment.
---