To break the monotony of the typical office cubicle, more workers are spending a lot of money on "pimp my cubicle" one-upmanship. Blame the uniformity of the cubicle farm; office cubicles are a damned efficient way of corralling a large workforce into a single workspace, but the mind craves variety.
I don't know about you, but when the first time I tried to pimp my cubicle, I worked with a really low budget – and cheap clods like me began with action figures. Dollies for men. Surely you can't be a sissy if your office cubicle action figures come from the hit show Futurama could you?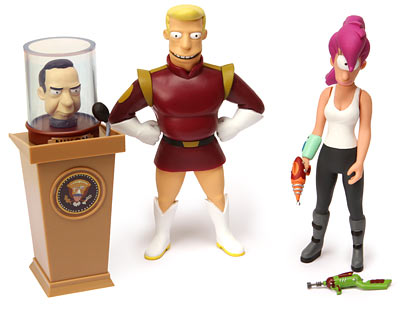 ThinkGeek sells three sets of Futurama action figures, including the star-crossed duo of Leela and Zapp Brannigan (pictured above – with the awesome addition of Richard Nixon's head in a jar!).
Moving up the budget scale, indulge your Formula One fantasies by buying a RaceChair – an actual seat from a real-live sports car, lovingly transformed into a static office chair. How's that for a comedown? One moment, you're a critical collaborator on Lewis Hamilton's Formula One team, the next, you're warming a midlevel manager's expanding backside.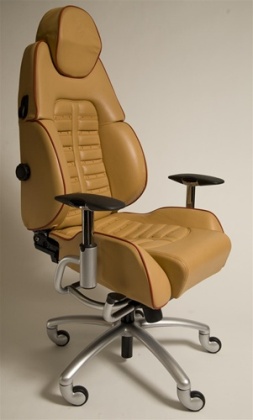 RaceChairs cost as low as $2,000, but may go for over $11,000, in the case of a seat stripped from a Lamborghini LP640 Murcielago.
More pimped-out cubicles after the jump.         (read more)